"I went very deep into a state of relaxation and trust, the healing energy was very strong. Kate brought through spontaneous vocal tones and healing sounds with crystal bowls which were very  powerful and resonated deep into my being. I feel profound shifts and transformation on all levels, and much more grounded, alive and clear. I am so grateful!"
– L.M., writer and yoga teacher, Santa Fe, NM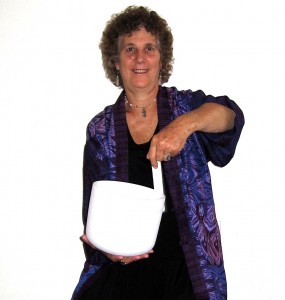 In all facets of her work, Kate is passionate about using the power of sound, especially the voice, as a catalyst for personal and planetary healing and transformation.
Follow this link for more information on Sound Healing.
In collaboration with her master guides, teachers, and the angelic realms, Kate uses multidimensional sound and energy techniques, toning, sonic activations, attunements, sacred geometry, chanting, vocal harmonics, Tibetan and crystal singing bowls, tuning forks, bells, gongs, harmonium, drum, percussion and other tools to help you:
• Free your voice
• Bypass your mind, connect with your body, sensations and emotions

• Become heart/love centered and find inner silence and peace

• Express your passion and authentic self
• Release barriers to complete healing on all levels of being
• Accelerate your spiritual growth and evolution
• Assess, clear and re-balance your subtle energy centers/ chakras
• Cleanse, re-align, and re-pattern your molecular, cellular structure, and restore your original divine blueprint.
• Remember your soul connection, Divine essence, past lives, soul purpose and life mission
• Connect with your intuition, guides, teachers, higher self and other dimensions.
Sonic Tonic Activations™/Soul Song Portraits
Kate combines her intuitive abilities and skill as a sound healer to offer toning, soul song portraits, sound activations and recalibration in person, and long distance.
She infuses sound frequencies and vocal harmonics into specific areas of the body to release old, self defeating behavior patterns and thought forms and to harmonize the mind, body and spirit.
Through sonic tonic activations™, attunements and personalized soul song portraits, she helps her clients open to their unique vibrational resonance and signature sound, reflecting back to them their deepest soul essence. She catalyzes instantaneous healing and awakening, and opens a portal for soul connection, rapid expansion, consciousness shift and a return to ones original divine state of wholeness.
Kate has a deep intuitive knowing of what each individual needs to be "in tune".
– Mary Avery, Life Coach and Energy Healer
Sound Activations, Attunements and Soul Song Portraits are available in person, by phone, internet and as MP3 downloads.
SOUND HEALING & VOICE WORKSHOPS/INTENSIVES-       See Programs for more info.