Circle of Song Book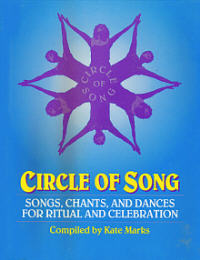 Circle of Song: Songs, Chants, and Dances for Ritual and Celebration
Compiled by Kate Marks © 1993
ISBN -09637489-04
Price: $25.00 USD
This excellent resource book is designed for musicians, teachers, educators and anyone interested in sharing song, dance, and ritual.
This book features:
• Over 300 sacred songs and chants from many spiritual traditions and global sources
• Easy to read music and lyrics
• Instructions for 40 dances
• Meditations and rituals to inspire creativity
• Extensive index and resource guide
• 60 beautiful illustrations
Excerpt  from the Introduction:
If you can walk
You can dance
If you can talk
You can sing
– Saying from Zimbabwe
---
Circle of Song : Songs, Chants, and Dances for Ritual and Celebration – E-Book Version
Compiled by Kate Marks © 1993  available as an e-book, PDF file.
Price $18 USD

---
Circle of Song CD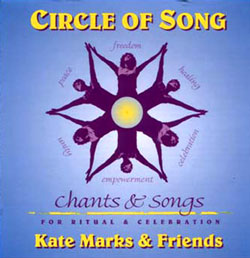 Circle of Song:Chants and Songs for Ritual and Celebration
By Kate Marks and Friends © 1999,
ISBN-0-9637489-39/6035523112    Price $16 USD

Includes 16 songs, chants and rounds drawn from Buddhist, Sufi, Native American, Jewish, African, Hindu and Celtic traditions as well as contemporary earth based ritual and circle songs. Produced and performed by Kate Marks in collaboration with other artists, it features beautiful, rich multi-layered musical arrangements, vocal harmonies and rhythms that inspire us and resonate deep in our beings. The music and lyrics for the songs and chants on this CD are printed in the companion book Circle of Song: Songs, Chants and Dances for Ritual and Celebration.
You can also download the CD electronically as an MP3 through CD Baby.
---
Circle of Song Book/CD Pack
Circle of Song: Songs, Chants, and Dances for Ritual and Celebration
Compiled by Kate Marks © 1993
ISBN 9637489-55                                                                                                                     Price: $35 USD
---
Click here for Purchasing and Shipping Information